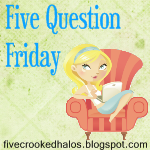 1. Did you pass your driver's test on the first try?
Yes, I did! I even passed my motorcyle test the first time.
2. What is your most embarrassing moment?
That's a hard question to answer on the spot. I know I have some but can't think of them right now.
3. What TV show would you like to be on- Oprah, Biggest Loser, or What Not to Wear?
What Not to Wear would be a lot of fun. I love to try on new clothes and try on different syles. However, being on Oprah would be a blast so I could tell my story of getting my children back and having my husband adopting them.
4. Would you ever get plastic surgery and what kind?
Yes, I would get plastic surgery. But I'm not telling you what! lol! I do want Botox in my jaw to help my TMJ.
5. What are your favorite jeans to wear?
Well, I just got some new jeans because I lost weight! So those are my favorites because they are smaller!
Check out more answers at:
http://fivecrookedhalos.blogspot.com/
I also love followers!